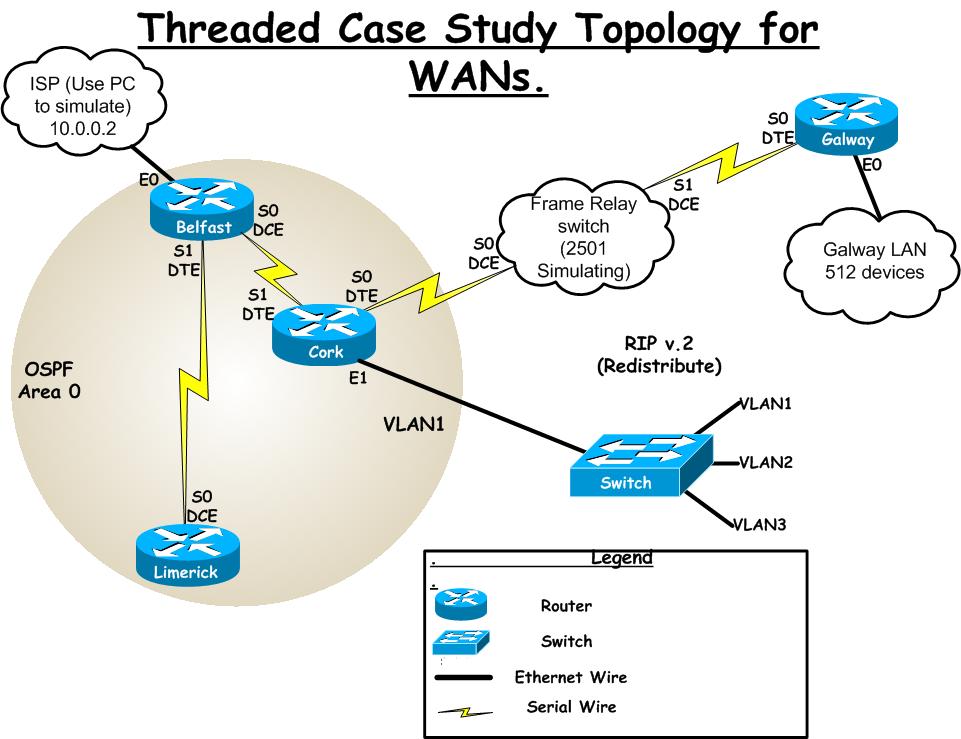 Here is the topology of the case study.
Network Description

Galway LAN

The specifications of the Galway LAN ACL are basic. The ACL is to prohibit the hosts of the Galway LAN from access past the Galway LAN router, unless the application protocol is HTTP of the port number 80. The critical aspect of the ACL is not to affect the communications of the Galway LAN with the rest of the network. For that reason the ACL will be placed on the inbound direction of the ethernet 0 interface on the Galway router. The ACL will deny access to the ISP, unless port 80 is used, and permit everything else. This ensures less latency than on another router and network simplicity.

IP Scheme

The IP scheme for this network needs to satisfy the large number of users for the different logical groups. The Galway LAN has 512 devices, while the Cork LAN has 750. In order to accommodate these large groups, two subnets are created using 10 bits for the hosts, enabling a possible 1022 IP address per subnet. This ensures that a valid amount of IP addresses is available not only for present devices but for future expansion as well. The IP address is then subnetted further for the serial links until 2 bits are used for the hosts.
Phase 1: Addressing the WAN
Name
Interface/Subnet Mask
Limerick S0
172.12.16.1/30
Cork E0
172.6.12.13/30
Cork S0
172.16.12.9/30
Cork S1
172.16.12.6/30
Galway E0
172.16.4.1/22
Galway S0
172.16.12.10/30
Belfast E0
10.0.0.1/8
Belfast S0
172.16.12.5/30
Belfast S1
172.16.12.2/30
Galway DHCP Pool
172.16.4.1/22 172.16.7.254/22
Cork LAN
172.16.8.1/22 172.16.11.254/22
Frame_Relay S0
172.16.12.21/30
Frame_Relay S1
172.16.12.22/30